I felt called to write about all the places I discovered joy this week, from the little things to the big things, it's a really quenching exercise to reflect on your week with thankfulness and see the joy no matter what your week brought with it. So for me, here is some little springs where I was refreshed by Joy.
This week has been a fairly average one and the week days flew by. What wasn't average was my daughter breaking into some prescription pills on Friday. It was a hectic moment but God is good and I don't think she swallowed any.
So without further ado, here is what brought me Joy
Pioneer Woman Sheet Cake... stop, make it, gain a pound, deal with it.
Sheet Cake- We have started going to a new life group this summer and I am really in love with this group of people and their intentional passion for life and relentlessly pursuing God in their lives and their families. It's no secret I love to cook and eat, and this past year I have absolutely fallen in love with Sheet Cake. After my son was born in January a friend brought over a southern meal of brisket and sheet cake, and I have to confess I ate the entire sheet cake in less than 36 hours. I'm chalking it up to needing calories from having a baby... it makes it seem less shocking. Anyway, last week I remade that very sheet cake (here's the recipe) and I found so much delight in preparing it and enjoying it with friends.
The Tooth!- My almost 8 month old son has one tooth, just one, and it stick out of his bottom gums like a little monument to progress. A butte ( love this word) in the dessert of his mouth and it cracks us up every time with see it all lonely and white. When you have just one tooth, looking goofy is part of the territory but when you have a smile like he does, well, goofy = adorable.
Ree Drummond's book from Black heels to Tractor Wheels: I promise that I will get off my PW kick soon but for now you are going to have to deal with me where I am. I read this little novel / biography in less than 36 hours and I highly suggest that you do the same. Here's a morsel to make it even more tempting for you married types: Kel and I are going through a marriage workbook right now, just some marital maintenance. Anyhow this book did more for my marriage than the marriage book did. I won't say marriage anymore, but read this book, marriage! (sorry I couldn't help myself)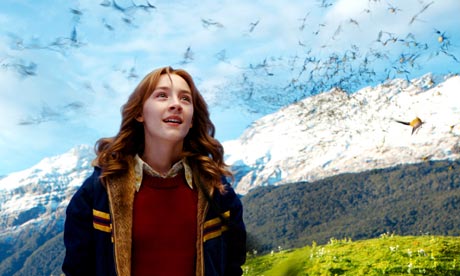 I snuggled and watched this not so new release this week: The Lovely Bones.
Movie Nights- Ask anyone who has ever worked with me, lived with me, or spent more than 37 seconds in a room with me, I don't sit still. Period. Ever. I took up crocheting just so that I could watch movies, because if I can't do something with my hands then I won't make it through even the most engaging flicks. This week however I endeavored to change that and I sat on the couch with Kel and watched a movie. We sat on the same couch, we didn't play with our phones and with him so close with me I found something to do with my hands. I held his hands, get your mind out of the gutter. (We watched the Lovely Bones and Something borrowed)
Rosemary Lemon Water- I'm still nursing so I can't have caffeine from sunup to sundown, nor should I, and I am trying to steer clear of diet pop too. I also trying to continue to wear my current pants. Along this lines I drink a lot of water. A lot. It gets bland, so I have started to flavor it with lemon and a sprig of rosemary from my garden. Eureka! Give it a try, even skeptics are coming over to my side.
Freeeeee Sheeeeeeeets- I am making a rag rug for my kids' room out of old sheets. It really fits with the crafty shabby chic look I strive to maintain around Casa de Penny. Along those lines I have been scouring thrift stores around our town for color coordinating old sheets. I wash them (because it would be nasty not to) and I rip them up and make them into a beautiful rug. Well yesterday I had to resort to garage sale-ing for sheets because to be honest I bought all the ones at the thrift store that match my motif. Yesterday I cruised by a garage sale that was packing up and scored 2 color coordinating queen size sheets for FREE! I think I probably texted at least 7 people only 2 of whom cared about my haul. I'm aware I'm the only one on earth excited about free mismatched used sheets.
Alright, those are my thoughts about Joy, a Penny for yours? I would love to hear about where you found joy in your kitchen, your home, and your world. And hey, if you need a home for your old sheets, I am crazy enough to adopt them.